There has been a visceral sense of relief here in Ireland at a Biden victory in the recent US presidential election. Ireland has always held America and American Presidents in high esteem. This was eroded during the presidency of George W. Bush (b. 1946; Pres. 2001-09) and has been damaged further during President Trump's time in the White House. Much of 'Old Europe' would agree with Ireland – an island which has been faced by an uncertain future since Britain voted to leave the EU in June 2016. Let's be clear, a majority in Scotland (60%) and N. Ireland (56%) voted against Brexit. As it is, that vote and the on-going political shenanigans that have followed have been grist to the mill of the Scottish National Party's (SNP) call for another referendum on independence and a cause of renewed tension within the population of N. Ireland.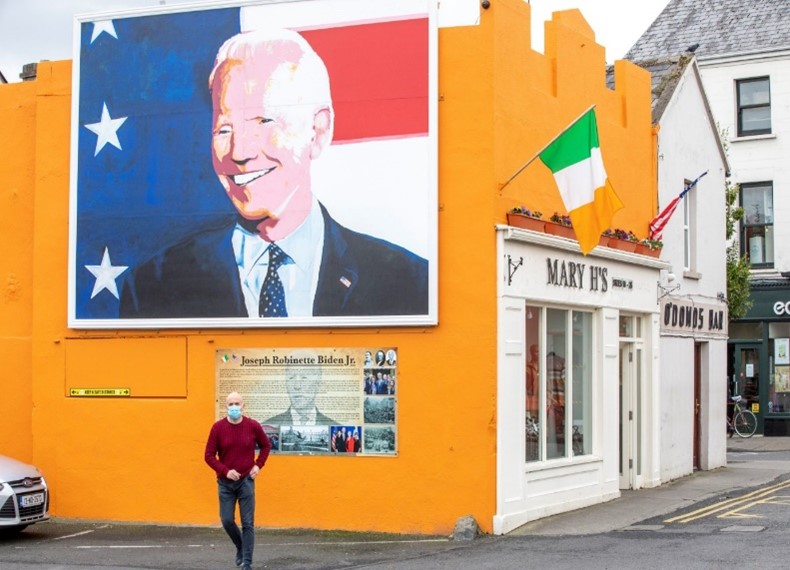 Brexit has felt like an existential threat to Ireland in three significant ways: firstly, in its potential economic impact. Writing in The Irish Times last month (8 October 2020), Eoin Burke-Kennedy cited an Economic and Social Research Institute report which said a 'no deal' Brexit might halve the island's economic growth in 2021. Trading well with the UK matters (www.thejournal.ie/amount-ireland-trades-with-the-uk-4745788-Jul2019/). Not only does Ireland export and import goods and services between the UK and Irish Republic, but many goods (mainly agricultural) bound for Europe pass through British ports. Additional tariffs and regulation will hit profits hard and raise costs.
As seriously, secondly, Brexit removes the shared identity of belonging to Europe. It re-emphasises difference and (re-)problematises the land border on the island of Ireland. Absent agreement of a trade arrangement between the UK and EU in the next few days, there is a real possibility the current 'open border' will become a complex 'hard border', with the integrity of the single market enforced for goods passing between the Republic of Ireland and N. Ireland. The border is a symbol for the people here. The open border has changed how we go about our business. A 'hard border' would send a very different message socially as much as politically.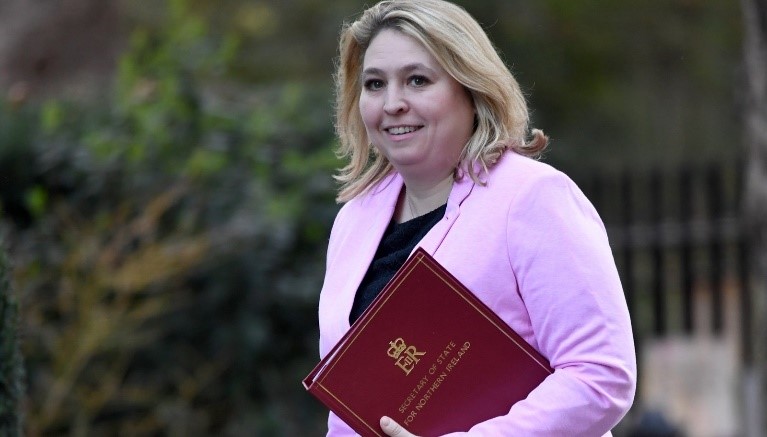 One of many things that irks Irish people is the widespread ignorance about Ireland and Irish history in England. This was exacerbated when it became clear leading members of the Johnson government were equally ignorant. Karen Bradley, Secretary of State for N. Ireland from 2018-19, famously admitted she knew nothing of Northern Irish politics and was surprised to learn that Unionists do not vote for Nationalists and vice versa! Answering questions at the dispatch box in the Commons in March 2019, she defended lethal force used by the security services during 'the Troubles' (late-1960s to the 1998 'Good Friday Agreement'). This gaff forced an apology and her subsequent resignation.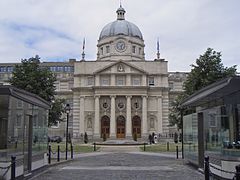 Thirdly, Brexit has been characterised over here as a very English form of populism, combined with nostalgia for a glorious past. This has been cast as England's version of 'Make America [Britain] Great Again'. Commentators have been swift to point out that many pro Brexit voters live in some of the most deprived parts of England (and Wales), who are likely to be hit hardest by the economic aftershock of Britain's departure from Europe. Jingoistic populism has created unease and sense of foreboding here, as if Brexit awakened Ireland's corporate memory of land seizure and evictions, of penury, famine, religious discrimination and pitiable dependency. Such nightmares have also stirred, of course, in ages past this island's soul; as the Irish poet W. B. Yeats (1865-1939) wrote, 'a terrible beauty' is born of tragedy (Easter, 1916).
Unfortunately, English populism has its corollary here in Ireland in a prevalent (often thinly disguised) anti-English sentiment. The one accent that might provoke a frisson of instinctive dislike or suspicion is an English accent! This reflex for being 'anti-English' manifests itself in high-brow and low-brow contexts. Successive opinion pieces by the award-winning Irish Times columnist and sometime Guardian contributor, Fintan O'Toole, can be read as an example of the former. His articles have been condescending – if not sneering – in tone; witness his most recent article, 'Collapse of Vote Leave Gang Comes Too Late to Save Brexit-addled Britain' (The Irish Times, 17 November 2020). Low brow anti-Englishness was also on show this week when the Republic of Ireland soccer coach was lambasted for using a film of English atrocities in Ireland to prepare his players for a game against England (www.dailymail.co.uk/sport/football/article-8966461/Ireland-showed-players-anti-English-video-game-Wembley.html)! Thankfully, even the players were less than impressed.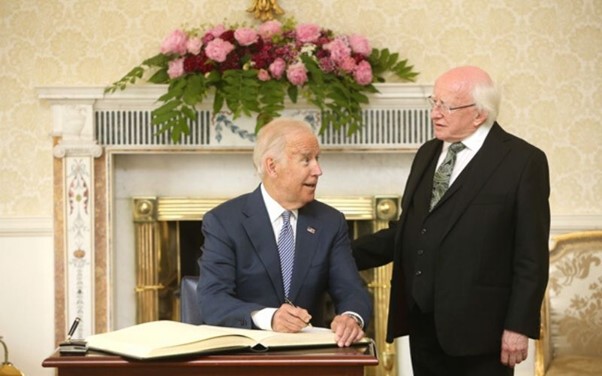 Back to President-elect Biden. Brexit does not feel such an existential threat anymore. The incoming President has a personal stake in the Good Friday Agreement. He is on record as saying there will be no trade deal with the UK if the UK government reneges on the N. Ireland protocols in the 'Withdrawal Agreement' with the EU. A Democrat Administration will take a dim view of anything that threatens the hard-won peace of 1998. British and Irish media have found a January 2020 exchange between President-elect Biden and a BBC journalist. The journalist asks Senator Biden for a 'quick word for the BBC'. Grinning, Biden replies, 'BBC? I'm Irish' (see: www.youtube.com/watch?v=a-G7NKYxSqY). Such swift footedness may be needed in the years and months ahead!
A delightful piece on the BBC News website (7 November 2020) addressed Biden's Irish roots (www.bbc.com/news/world-europe-54838812). Among many recent stories in the Irish press one said Biden will have an Irish violinist and 'The Chieftains' playing at his inauguration and visit Ireland on his first State visit as President. All this is in stark contrast to President Trump, who appeared to many here to care little for Ireland (even less for the EU) and, worst of all, seemed to have taken a shine to Boris Johnson and the populist elements of the Brexit project. To set this in context: there has often been bad blood between Ireland and the UK Conservative Party; especially under Margaret Thatcher, whose rhetoric was seen as pugilistic and dismissive of Irish nationalism.
Britain likes to think it has a 'special relationship' with the US. Ireland views its relation to the US as even more 'special', certainly more romantic (if not a little emotional!). Since 'the Great Irish Famine' (1845-49), America has been seen as a place of hope and refuge and a source of help in Ireland's darkest hour. It also stands as a bold reminder to friend and foe alike that imperial power is no longer British! Yes, Ireland's history with Britain has won her many friends, but it is America and the Irish American lobby that has more often enabled Ireland to stand tall on the world stage. The influence of the Irish diaspora in the US and elsewhere remains immense: just think of the 'soft power' exerted by the St. Patrick's Day parade in New York, when many of the world's most famous landmarks turn an Irish shade of green! Which other nation could market itself so successfully like that!? All around the world, people love the Irish. President Obama (b. 1961; Pres. 2009-17) stood on College Green in recession-hit Dublin in 2011 and told us to dig deep, using the slogan he made his own, Is féidir linn, literally, 'Yes we can!'. Post-Brexit, in another hour of need, Ireland looks to a new US President, one who loves Ireland and the Irish – and really is Irish – to watch out for us and make us believe again 'Yes we can!'.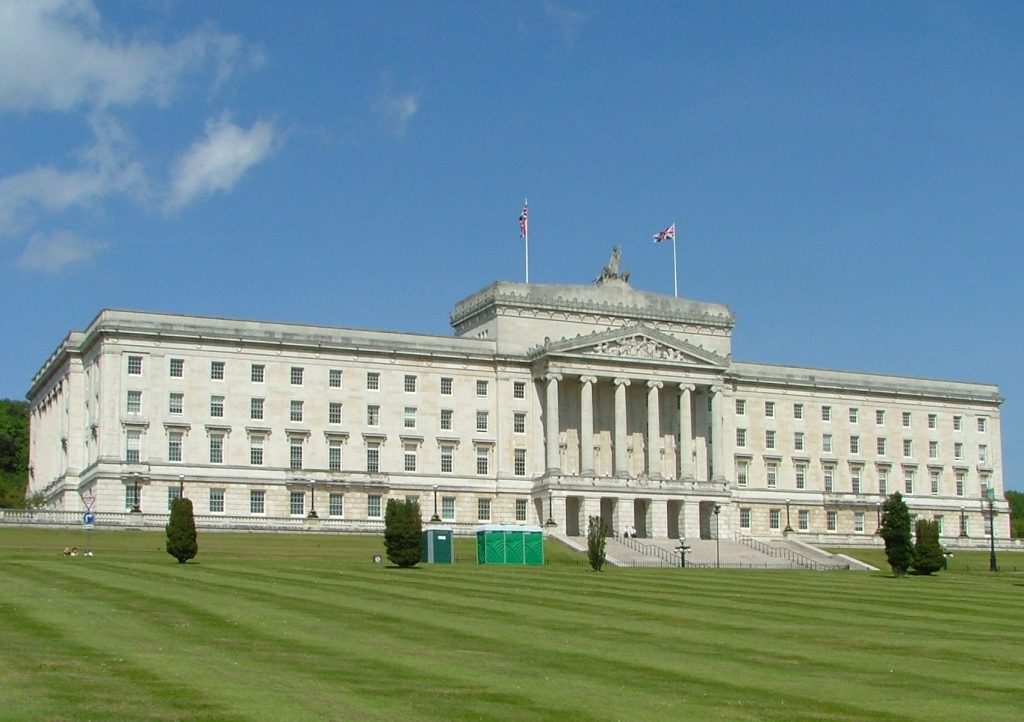 All this is good news for Ireland – both North and South. The Johnson Government will not be able to rely on a Brexit-supporting Trump presidency to prioritise a trade deal. Indeed, the deliberate (and cynical) intention to break international law (by reneging on the recently signed 'Withdrawal Agreement' between the UK and the EU) – in the event of a 'no deal' Brexit, as set out in the Internal Market Bill 2020 currently passing through the UK Parliament – might have seemed a clever bit of diplomatic brinksmanship at the time. It looks a great deal less clever now. Trump might have turned a blind eye to this egregious circumvention of convention and the 'rule of law', President Biden will not. Even without a trade deal with Europe, it is much less likely the UK Government will want to jeopardise their relations with Democrat America. The tumultuous events in 10 Downing Street in the past week, including the expeditious departure of the PM's senior advisor Dominic Cummings, would seem to suggest Johnson is re-setting his priorities and style of government to woo the new US Administration. This bodes well for the Western Alliance: as importantly, it bodes well for Ireland and for UK-Irish relations.
So, what can Ireland look forward to over the next four years? It is looking forward to feeling good about America again, and expressing its affection for America by hosting the new President. Looking further ahead, it will hope to build on the good things in the Good Friday Agreement. The Irish Government has set aside €500m. in its 2021 budget for its 'Shared Island Initiative'. Notwithstanding Sinn Fein's agitation for a border poll, this is not primarily about a politically united Ireland. It is to maximise the potential of the whole island of Ireland to live peaceably, trade effectively and promote cultural respect and understanding (on this: www.gov.ie/en/press-release/2c97f-taoiseach-statement-on-shared-island-fund/). The case for a united Ireland will be, of course, harder to resist if the island of Ireland works successfully as a prosperous unity.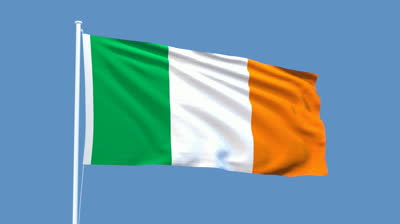 For now, how we negotiate our relationship with the UK post-Brexit will be a whole new chapter in Irish history. With a Biden win, the prospects look a great deal more hopeful.
Dr William Olhausen, Associate